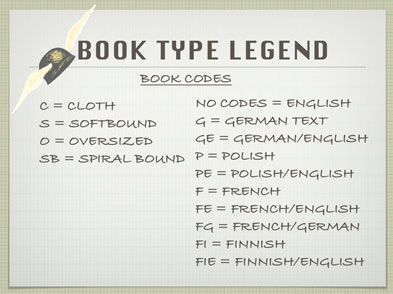 Free Shipping on orders of 8 or more books.
Applies to US Shipments only.
Please note, I do not add new books to my website until I actually have them in stock, as too many times in the past there have been the so called check's in the mail issues with problems from release dates to shipping and so on. Many of the new titles you see around I will carry and when I do have the book in stock they will be posted immediately.

PK Cameraman No. 2
Price: $54.00

$60.00
Book Type: C,O
by Remy Spezzano & Tom Cockle, 88 pages, 59 B+W photos printed in tritone, 1 map
PK CAMERAMAN is a unique set of volumes presenting the photographic work of Wehrmacht and Waffen-SS Kriegsberichters (war correspondents) that portrays the German armed forces during training, deployment, and combat operations in the Second World War. The "PK" stands for Propaganda Kompanie, which were units composed of photographers, motion picture cameramen, writers, broadcasters, and illustrators who accompanied the troops to document their myriad activities in the occupied territories and on the front lines.
PK CAMERAMAN No. 2 features photographs taken by SS-KB Wilfried Woscidlo and PK-KB Bernhard Kurth depicting the newly formed 12. SS-Panzer-Division "Hitlerjugend" carrying out training exercises in Belgium in early 1944. Highlights include Woscidlo's photos of the young Panzergrenadiers on maneuvers with motorcycles and field artillery and Kurth's photos of their inspection by Generalfeldmarschall Gerd von Rundstedt on 8 March 1944.
Other senior officers appearing in this publication include the division's commander Fritz Witt, regimental commanders Kurt Meyer and Wilhelm Mohnke, and 1.SS-Panzer-Korps commander Sepp Dietrich. Instructing the "HJ" recruits are a mixture of veteran Heer (Army) and Waffen-SS NCOs and officers whose experience and expertise are put to use honing their combat skills in preparation for the anticipated Allied invasion of France.
The book abounds with striking images of half-tracked armored fighting vehicles and prime movers such as the Schützenpanzerwagen Sd.Kfz.251 and Zugkraftwagen 8t Sd.Kfz.7 respectively, as well as the stalwart Panzerkampfwagen IV medium tank. An abundance of camouflage attire is also on display, showing the full range of Waffen-SS foliage patterns applied to helmet covers and smocks, plus the distinctive Italian M29 camouflage material used for various garments such as trousers and coveralls. The large inventory of machine guns boasted by 12.SS-Pz.Div. is clearly evident in these photos, with the formidable MG-42 appearing throughout this detailed chronicle of the formation's development.
These images are vividly brought to life by virtue of the high-resolution photo reproduction, digital enhancement and restoration incorporated into the production of this edition. A further appreciation of the photography is acquired via the extensive and meticulously researched captions, which are written from a technical, tactical, and historical perspective. Additional information is provided by way of a concise essay on the division, a map showing its pre-invasion deployment in Belgium, and profiles of the two featured Bildberichters (photojournalists).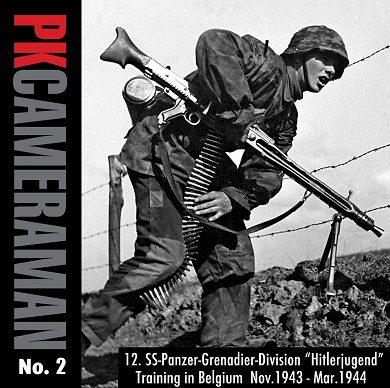 ---