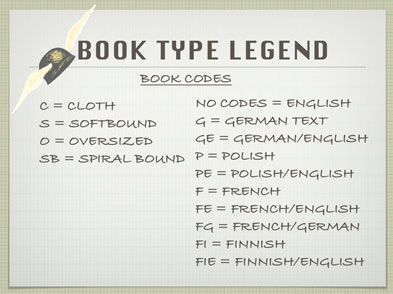 Free Shipping on orders of 8 or more books.
Applies to US Shipments only.
Please note, I do not add new books to my website until I actually have them in stock, as too many times in the past there have been the so called check's in the mail issues with problems from release dates to shipping and so on. Many of the new titles you see around I will carry and when I do have the book in stock they will be posted immediately.

GERMAN PRINT ADVERTISING 1933-1934
Price: $36.00

$40.00
Book Type: C, O
By Ray Cowdery The only book of its type, this book contains adds from hundreds of Germany's premier institutions and companies including SS Allach Porcelain, Mercedes Benz, BMW, Adlon Hotel, Walther, WKC, Audi, Junkers, Deutsche Lufthansa, Mauser Hanomag, Audi, Shell, Lanz Bulldog, Ford, Zündapp, Auto-Union, WMF, Rosenthal, Carl Eickhorn, Leica, E. & F. Hörster, Maybach, Horch, Adler, "4711", Heinkel, AEG, Felina, Ducolux, Henschel, Stock, German Red Cross, Werner's Legant, Plexiglas, Dornier, Porolastic, UHU, RZM, Sekurit, Messerschmitt, DDAC, Ringhoffer-Tatra, J.P. Sauer & Söhn, Trix, Schuco, Degesch, Steiff, Focke-Wulf, DKW, Krupp Berndorf, Coca Cola, Schokakola, Kodak, Leitz, Kraft's Velveta, Telefunken, Daimon, Tipp & Co., Circus Krone, Mädler, Leuna, Robot, Gillette, Busch, Trommler, IG Farben, Siemens, Preussag, Singer, FAG, Otto Boenicke, SKF, Meissen, Lorenz, Schenker & Co., Hensoldt, Osram, etc. The authors provide captions, commentary, translations and sources for many of the 60+ year old ads. The book contains German ads for everything from Art supplies to Zeppelins! Automatic pistols to automatic cameras, exotic cars to exotic dancers. Fancy uniforms to fancy hotels and battlefield weapons to ceremonial edged weapons. There are ads for tractors, trucks, typewriters, toy trains and real trains. Lingerie to locomotives and bearings to bicycles and battleships. There are helmets and handcuffs, hob nails and halftracks, figurines, field glasses, flashlights and flags. Some ads show books and others show boots, bullets, barracks and beer. There are ads for ship lines and silverware, sunglasses and songbooks, submarines and swords. Ads depict coldcuts, cigars and cement mixers, cabarets, cough drops, gas generators, goggles, plaques, pens and pencils, paper, sewing machines, stuffed toys, motorcycles, foundation garments, fragrances, finger rings, Zyklon, etc. Over 400 period advertisements, 95 ads in full color. Fascinating book. 176 pp.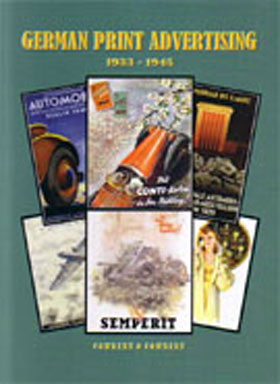 ---